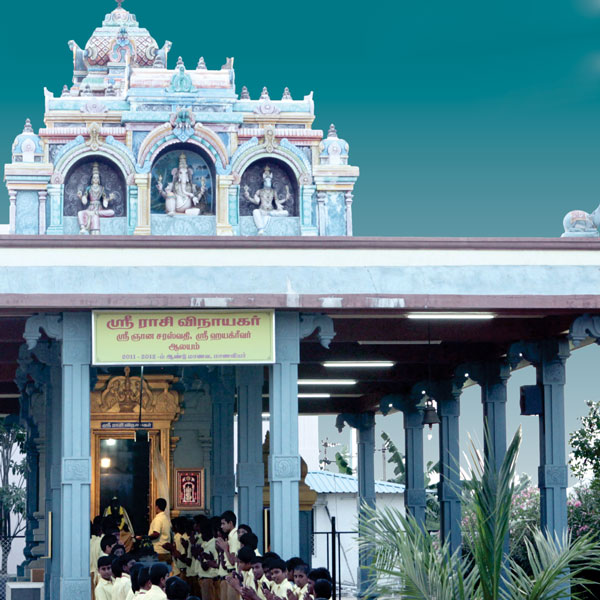 THE SCHOOL
The SRV Excel Matriculation Higher Secondary School is sponsored and run by the founders of SRV Schools of Rasipuram under the auspices of Sri Balaji Educational and charitable Trust, a registered body at Rasipuram Namakkal Dt., the Educational hub of Tamilnadu.
It is purely a self financing school run by its own funds generated by the trust.
It is a Co-Education school with classes VI to XII.
The School is the product of Vision, Dedication, Care and hard work of the founders of the SRV Girls Higher Secondary School.
The School has been established due to the ever rising demand from the parents and the student community to have one more school on the lines of the SRV, as all the aspiring students to join the SRV could not get admitted in one campus.
In short, it is an improved and updated reprint of The SRV from its Directors. It is an another gateway to professional cources like MBBS, B.E., etc.
SRI RASI VINAYAGA TEMPLE
The Sri Rasi Vinayaga Temple with Sri Rasi Vinayagar as the main Deity along with Goddess Sri Saraswathi and Sri Hayagreevar is located in the spot in the school premises.
When steps into this temple one will feel a sense of inspiration, a mind with power of concentration and a power of will.
Location
The S.R.V. Excel Matriculation Hr. Sec. School is located on the National Highway NH.7 just one K.M. away from the Andagalore gate four road junction towards Namakkal facing the east over a sprawling area of more than twenty acres in a serene and green atmosphere with lushy green fields all around free from air and noise pollution.